Anna HS Boys BK traveled to Russia this evening in SCAL action — Freshmen lost 35-42, JV won 53-47 and the Varsity lost by a score of 70-37 ; Rockets will host Miami East tomorrow nite -Saturday, January 28th starting w/ Freshmen game at 4:30pm
Anna 8th grade Girls BK defeated Russia this evening by a score of 18-16 in the SCAL Semifinals at Ft Loramie — Lady Rockets now advance to the SCAL Final next Monday, January 30th at 7:15pm vs Ft Loramie
Anna JH Boys BK traveled to Botkins this evening to wrap up their regular season — 7th grade won 39-33 and 8th grade won 33-29 ; Rockets open SCAL Tournament play at Houston on Saturday, January 28th
Anna HS Boys BK hosted Houston this evening in an SCAL matchup and swept the Wildcats — JV won 63-35 and the Varsity won by a score of 56-41 ; Rockets will travel to Russia this Friday, January 27th for a triple-header w/ a 4:30pm Freshmen start
Anna HS Girls BK swept WL-Salem last evening in non-league action — Varsity won 38-35 and the JV won 35-25 ; Lady Rockets will host Marion Local this coming Saturday, January 28th w/ a 10:30AM Freshmen start
Anna JH Boys BK hosted Miami East this evening in non-league play and split w/ the Vikings — 7th grade won 52-42 and the 8th grade lost 49-38 ; Rockets will wrap up their regular season on Thursday, January 26th at Botkins w/ a 5:00PM start

Power of the Pen competed on Saturday at OSU Lima. And a first in AMS history happened…8th grader Croix Monnin earned 1st place rankings in all three rounds and a standing ovation! Quality points were used to break the tie in writers. 5 quality points separated Croix and the first place writer. Croix earned second place overall! Croix and other writers will advance on to regionals in March. Way to write team!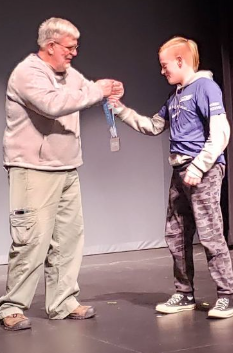 Anna HS Boys Basketball traveled to WL-Salem this evening in non-league play — Freshmen lost 29-27, JV won 51-30 and the Varsity won by a score of 44-36 ; Rockets will host Houston next Tuesday, January 24th at 6:00PM
Anna HS Girls BK traveled to Russia this afternoon in a SCAL matchup — Freshmen lost, JV won 35-26 and the Varsity lost by a score of 46-30 ; Lady Rockets will travel to WL-Salem on Monday, January 23rd at 6:00pm
Anna JH Girls BK opened SCAL Tournament play at Ft Loramie this morning — 7th grade lost to JC 41-33 to wrap up their season and the 8th grade defeated JC by a score of 37-18 ; 8th grade now advances to play next Thursday, January 26th at 7:15PM vs Russia
Anna HS Boys BK swept Fairlawn last evening in SCAL play — JV won 43-23 and the Varsity won 47-42 ; Rockets travel to WL-Salem TONIGHT for a triple-header starting at 5:00PM
Anna HS Girls Basketball hosted Houston this evening in SCAL action and swept the Lady Wildcats — JV won 37-9 and the Varsity won 52-34 ; Lady Rockets will travel to Russia this Saturday, January 21st in a triple-header w/ the Freshman game starting at 10:30AM
HS Boys BK Up-dates JV / Varsity Boys BK @ Fairlawn -- Friday, Jan 20th @ 6:30 PM Fresh / JV / Varsity Boys BK @ WL-Salem -- Saturday, Jan 21st @ 5:00 PM JV / Varsity Boys BK vs Houston @ Anna — Tuesday, Jan 24th @ 6:00 PM
Anna HS Boys Basketball hosted Ft Loramie this evening in SCAL action — Freshmen won 41-21, JV won 38-31 and the Varsity lost by a score of 57-28 ; Rockets will travel to Fairlawn this Friday, January 20th w/ a 6:30 pm JV start

Congrats to our Science Olympiad team for their strong performance at the Northmont Invitational on Saturday!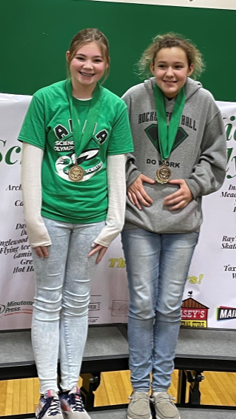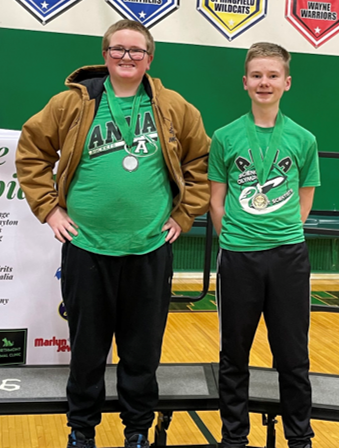 Anna JH Girls Basketball swept Botkins this evening in SCAL action at Anna — 7th grade won 23-17 and the 8th grade won 39-26 ; Lady Rockets will travel to Miami East this Thursday, January 19th at 5:30pm
Anna Junior Paige Steinke was presented w/ her State Champion ring this evening at the HS Boys BK game vs Jackson Center — Paige had a perfect, undefeated season and was the 2022 Div III State Champion in Girls Cross-Country — Congratulations Paige !!!!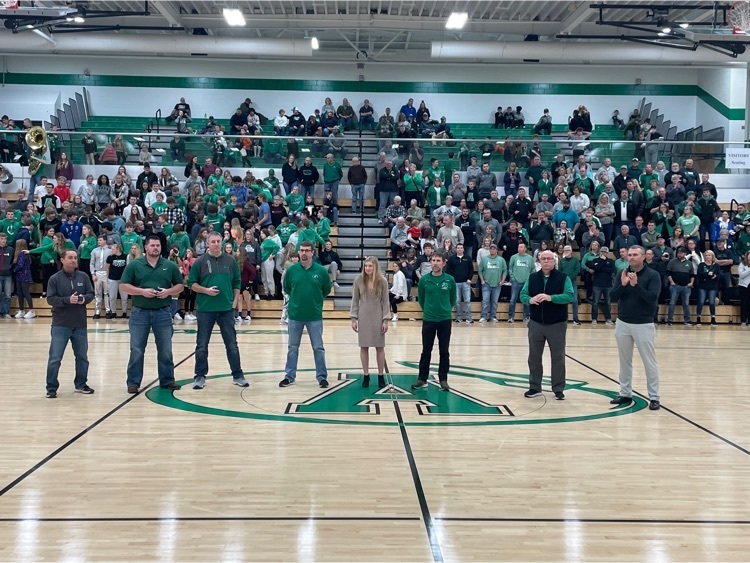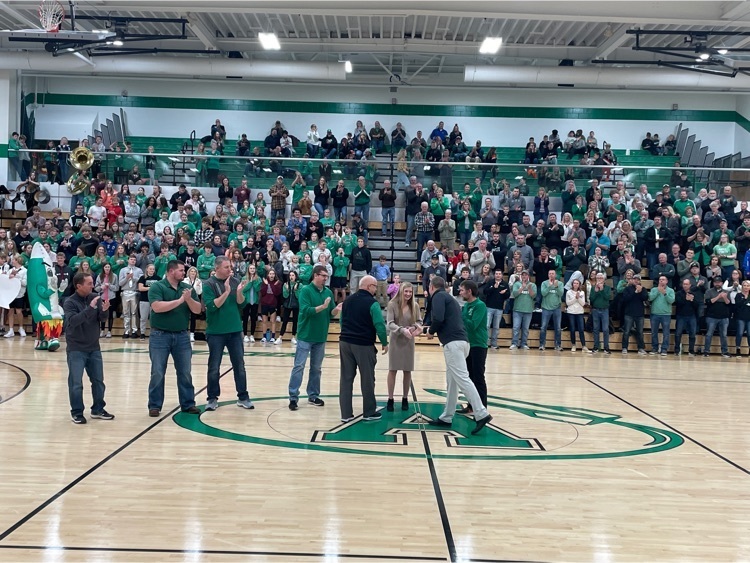 8th Grade ROX and Guys in Ties celebrated the end of the 1st semester with a formal meal today!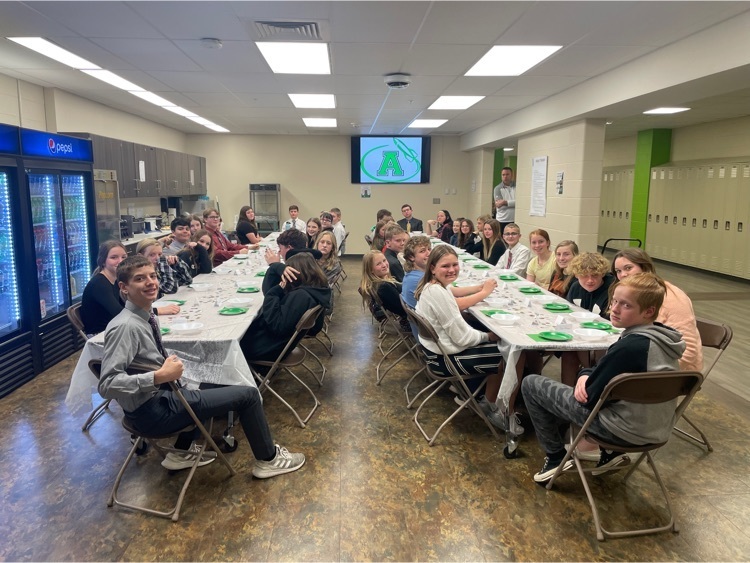 January 12 - The Anna Schools are on a two hour delay. The modified exam schedule will be emailed to high school students later this morning.

On February 3, 2023 area dentists and the Shelby County Health Department are once again participating in a free dental program known as 'Give Kids a Smile" Day. The program is available to any child in Grades 2nd through 8th, has NO dental insurance and is NOT on Medicaid. Area dentists will conduct a dental screening at Compassionate Care facility. Screenings are by Appointment Only. For more information or to schedule an appointment, call Julie Geise, RN at 937-498-7323 by January 31st.